DLIR's R&D and Business
In line with our company's mission to create new value, and contribute to sustainable social development, Denka Co. Ltd. is fully committed to its healthcare and life sciences enterprises in vaccines and diagnostic reagents as well as expanding into new areas related to anti-cancer drugs, genetic testing and health checkups. Against this backdrop, Denka Co. Ltd. has initiated its first overseas life science R&D base in Singapore, after the establishment of the Life Innovation Research Institute in Machida City, Tokyo.
Denka Life Innovation Research (DLIR), Singapore, is based in the biomedical research hub, Biopolis, and functions as an Open Innovation base with local R&D centres. Its location and setting are expected to secure and nurture researchers capable of leading cutting-edge R&D projects that involve collaboration with peers from around the world. This facility will work on vaccines and diagnostics, thus, strengthening our company's businesses in the health and life sciences field, where sustained global growth is expected.
DLIR's opening ceremony in February 2017 was featured in the local media,
click here
to view.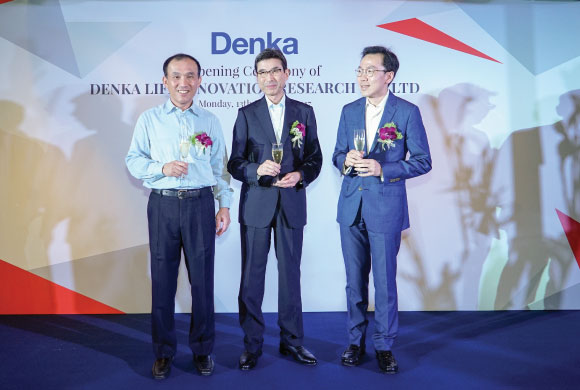 Celebratory toast by our Guests-of-Honour during DLIR's opening ceremony in February 2017. From left: Mr Lim Chuan Poh, (Chairman A*STAR;2007-2019), Mr Shinsuke Yoshitaka , Chairman (Denka Co., Ltd), Dr Beh Swan Gin, Chairman (EDB)
Our Vaccines Division will embark on novel subunit vaccine strategies through a proprietary plant-based genetic modification technology. This innovative production platform (MagnICON® ) is acquired from ICON GmbH, Germany, a biopharmaceutical R&D company that became a Denka subsidiary in 2015. It enables faster large scale manufacturing of high molecular proteins, at higher yields and lower costs, compared to traditional microbiological, insect or mammalian cell cultures.
Our Molecular Diagnostics division will develop point of care (POC) molecular diagnostic systems for diagnosis of infectious diseases, cancer, and genetic testing. Our projects will firstly focus on medically important infectious diseases such dengue fever, and Zika fever, which are endemic to the tropical and subtropical countries, as well as sepsis caused by blood-borne infections.
DLIR's laboratory in Nucleos, Biopolis.