Plants and Offices
Singapore
Denka Chemicals Holdings
Asia Pacific Pte Ltd

8 Jurong Town Hall Road, #07-01, The JTC Summit, Singapore 609434
T +65 6224 1305 F +65 6224 3840

Incorporated in 2009, Denka Chemicals Holdings Asia Pacific Pte Ltd manages all of Denka Group's subsidiaries in the Asia Pacific region. Currently, it is the holding company of 4 local subsidiaries and 2 overseas subsidiaries.


Denka Singapore Pte Ltd

Acetylene Black Plant
300 Ayer Merbau Road,
Singapore 628282
T +65 6867 8496 F +65 6867 8595

Established in 1984, Merbau plant is the first manufacturing facility of Denka Singapore Pte Ltd to be involved in the Singapore Petrochemical Complex Project. It is a production base for Acetylene Black, a highly purified and extremely conductive carbon black which is indispensable in dry cells, high voltage cables and other product applications that require conductivity.
Styrenic Resins Plant
40 Seraya Avenue, Singapore 627873
T +65 6867 6089 F +65 6867 6090

As one of the world's largest facilities for continuous polymerisation, Seraya Plant manufactures specialized products of High-Molecular Weight Polystyrene and MS resin. Ever since it started production of SBC resin in 2006 and Denka IP in 2012, it has become one of the largest production bases for styrenic resins. Seraya Plant prides itself on efficient manufacturing through optimising the use of facilities and managing our human resource effectively to meet the demands of a global market.
Denka Advantech Pte Ltd

Fused Silica Filler Plant
11A Tuas Avenue 20, Singapore 638823
T +65 6861 0004 F +65 6861 4139

Tuas Plant is the only manufacturing facility used to produce fused silica filler. Fused silica filler is a major ingredient used in semiconductor encapsulation. By enhancing its production system and product quality, it has contributed to the miniaturization and the increase in reliability of semiconductor packaging. Together, Denka Advantech Pte Ltd's Tuas Plant and Denka's Omuta Plant have become the world's top class production bases for spherical fused silica filler.
Synthetic PVC Fiber Plant
6 Tuas South Drive, Singapore 637046
T +65 6412 9200 F +65 6659 8177

The Tuas South plant is a manufacturing facility of the synthetic PVC fiber, 'Toyokalon®'. 'Toyokalon®' is used in hair products, such as wigs and hair pieces, in various parts of America and Africa. After successfully industrializing the production of PVC fiber in 1952, Denka incorporated its unique technology into the production process of 'Toyokalon®'.
Denka Life Innovation Research Pte Ltd

R&D Facility
21 Biopolis Road, #03-21/22 Nucleos South Tower Singapore 138567
T +65 6265 2237 F +65 6265 2406

Inaugurated in 2017, Denka Life Innovation Research is the first overseas Research & Development (R&D) facility in the Life Sciences field of the Denka Group. It is based in the biomedical research hub, Biopolis. Its location and setting are expected to secure and nurture researchers capable of leading cutting-edge R&D projects. This facility will work on vaccines and diagnostics, thus, strengthening our company's businesses in the health and life sciences field, where sustained global growth is expected.
Vietnam
Denka Advanced Materials
Vietnam Co Ltd

Plot D-5 Thang Long Industrial Park II, Lieu Xa Commune
Yen My District, Hung Yen Province, Vietnam
T +84 221 397 4805 F +84 221 397 4806

Denka Advanced Materials Vietnam Co Ltd (DAV) was incorporated in Vietnam in December 2013. DAV is the first manufacturing base outside of Singapore in Southeast Asia. DAV started producing its own PVC tape, 'VINI-TAPE®', in 2015. It then began the production of Denka Thermo Film in 2016.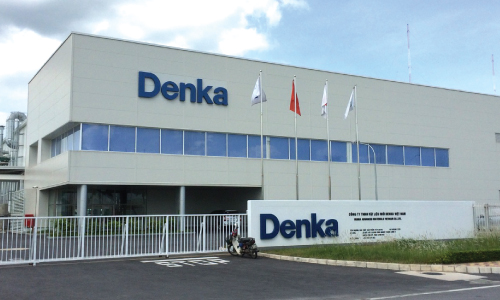 Malaysia
Denka Construction Solutions Malaysia Sdn Bhd (DCSM)

No.18, Jalan Utas 15/7, Seksyen 15, 40200
Shah Alam, Selangor Darul Ehsan, Malaysia
T +60 3 5510 8810 F +60 3 5510 0708

Denka Construction Solutions Malaysia Sdn Bhd (DCSM) was established in 2015. DCSM produces and markets building materials used in waterproofing, flooring, surface treatments and coatings. These products are of the highest standards of quality and have been used in many construction projects around the world.